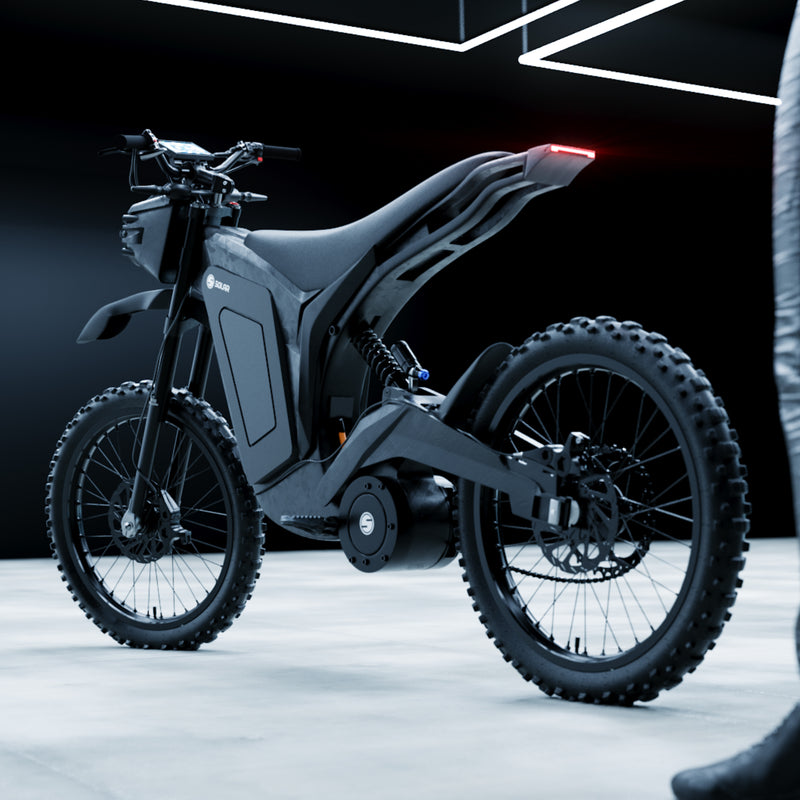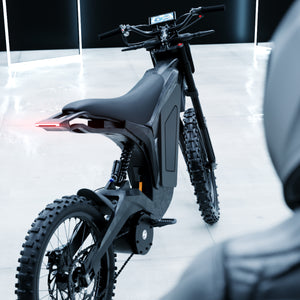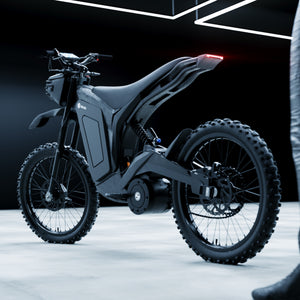 Solar E-Clipse 2.0 - Road Legal
Introducing the Road Legal Electric Motorbike Solar E-Clipse 2.0. A brand new performance e-bike platform designed by riders, for riders.

At a glance:
60+Mph Top Speed - 10000w Peak Motor
65-75 Mile Range - 72v 45Ah LG Battery
400Amp Controller
Full Hand Woven Carbon Fibre Frame and Swing Arm
Fully Adjustable Taiwan Suspension
IP67 Water Resistance Rated
Removable Battery - Fast Charging as Standard
Regenerative Brakes / Dedicated Regen Brake
Full Colour LCD Display
Remote Lock / Unlock / Alarm / Fork Locking
19" Wheels Enduro or 16" Wheels Super Moto
Front & Rear Turn Signals
Can be road registered - Number Plate Holder, VIN Number & Mirrors Included
Current Pre Orders - Deliveries Will Be In November-Early December 2023
Next Pre Orders - Deliveries Will Be In End December-January 2024
Fully Road Legal
The Solar E-Clipse 2.0 is one of the few electric motorbikes which can be used legally on the road. The E-Clipse 2.0 comes with all the necessary paperwork to register and insure your bike.
Compliant with all M1/M2 and European L1e motorcycle licenses.
Includes:
Side mirrors
------
Numberplate holder / Numberplate holder and extra rear fender
------
VIN Number
------
Complies with all road legal requirements.
Maximum Range, Limitless Possibilities
Featuring a robust removable 72v 45Ah LG battery comprising 21700 cells, the E-Clipse 2.0 boasts a commendable range of 60-70 miles per charge. Rapid recharging, facilitated by a 10Amp charger, enables a full battery restoration in a mere 3-4 hours, minimizing downtime and maximizing exploration time.
Smooth Ride - Efficient Motor
The E-Clipse 2.0 features a cutting-edge powertrain with a sinewave controller, providing smooth power delivery at a peak output of 400A and a continuous output of 120A. This enables precise control of the 10000W peak output motor, known for its high power density & precise control. The dedicated regenerative braking system not only efficiently slows down the bike but also contributes to recharging the battery.
Intelligent LCD Display
The E-Clipse sets itself apart with its thoughtfully designed display, which provides riders with all the necessary information to operate the vehicle with ease and safety.
Boasting a large and bright automatic dimming LCD screen, the display features a host of safety features, including preciser battery percenatge, turn signals/Hazard lights, main beam lights, horn, and brake indicator, ensuring that riders can focus on the road while enjoying a secure ride.
Inverted Suspension Forks
With cutting-edge inverted forks designed and manufactured in Taiwan, riding the E-Clipse 2.0 off road or on road can easily be adapted by the fork settings.
Front Inverted Forks

Travel - 203mm
------
Material - 7050 Aluminum - high resistance to exfoliation corrosion and stress-corrosion cracking, high fracture toughness, and fatigue resistance
------
Adjustability - Preload, Rebound, Air Pressure

Rear Motorcycle Shock
Material - 7050 Aluminum
------
Adjustability - Preload, Rebound, Air Pressure, Compression
------
Length (Eye to Eye)
- 265mm : 85mm
- 245mm : 76mm
- 225mm : 66mm
- 205mm : 56mm
- 195mm : 51mm
Solar E-Clipse Specs
Range:
50-70 miles (72v 45Ah LG 21700 Cells)
------
Top Speed:
Up to 60mph in sport mode*
------
Peak Power:
10000W - 400A Controller
------
Acceleration:
3.6s 0-30mph
------
Weight:
60.8KG / 138lbs
------
Water Resistance:
IP67
------
Fast Charger Included:
10A
My favorite purchase in 2023!
Hi, I received the bike Friday October 27th around 4pm and took it in the back to unpack and assemble. The packaging was perfect and all of the parts were there just the way it was intended for assembly. Assembling the bike was very easy with minimal effort and common sense. I charged it last night and it is ready to go today! Solar USA made the process very easy from the purchase to shipping to assembly and I couldn't be anymore stoked! Thank you very much!
Great customer service
Bought the bike after speaking to a Solar Rep who was very patient with me and explained all my questions.
Happy to say my bike has been delivered in perfect condition and will be using this as my daily commuter.
Phenomenal bike
I've been looking for a road legal bike for a very long time. This has literally ticked all the boxes.
It's beautiful, fast, range is amazing. Any best of all I have registered my bike legally insurance was $150 extra on my bike insurance plan.
What more can I say. Thank you Solar
Expert customer service
I'll be honest, the bike took some time to arrive. When it did I got about 25 minutes of drive time before the throttle gave out. After a few days of fiddling customer service took care of the problem without a hitch. A bit of a stumble out the gate, but an awesome bike when it's running, and honest service.
The charger never worked. Customer service tried everything to figure out problem. Ended up sending new charger. Great customer service. The motorcycle is what to be more impressed about. Great bike