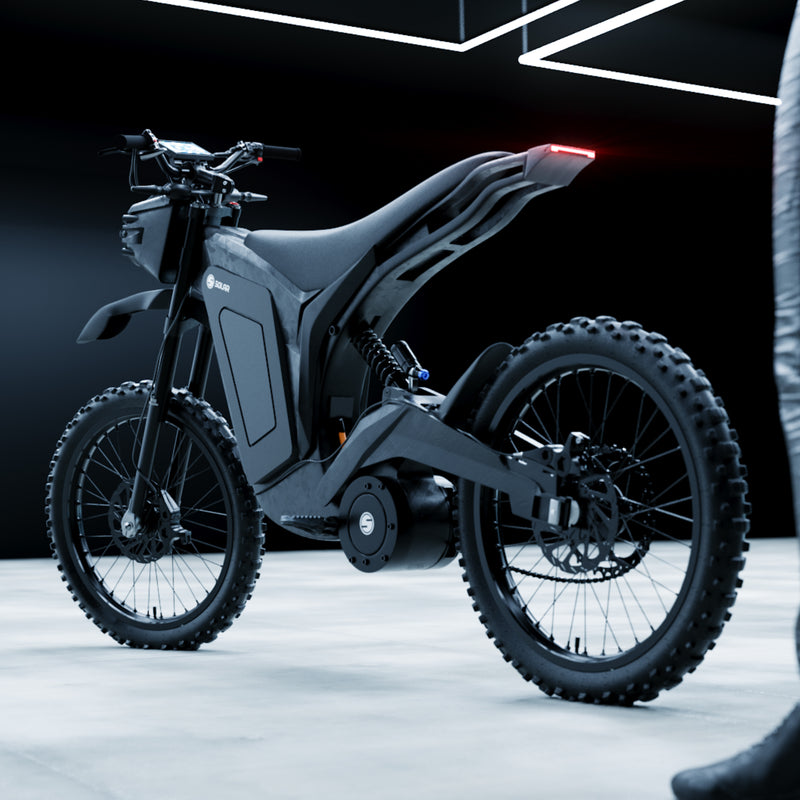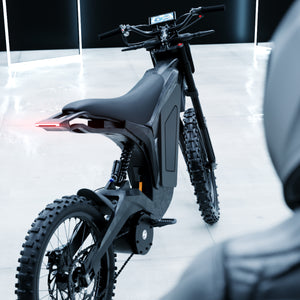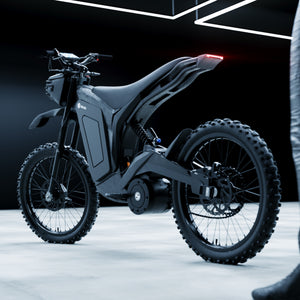 Solar E-Clipse
Introducing the Solar E-Clipse. A brand new performance e-bike platform designed by riders, for riders.

At a glance:
60+Mph Top Speed - 10000w Peak Motor
65-75 Mile Range - 72v 45Ah Battery
400Amp Controller
Full Carbon Fibre Frame and Swing Arm
Fully Adjustable KKE Suspension
IP67 Water Resistance Rated
Removable Battery - Fast Charging as Standard
Regenerative Brakes / Dedicated Regen Brake
Full Colour LCD Display
Remote Lock / Unlock / Alarm / Fork Locking
19" Wheels Enduro or 16" Wheels Moto
Front & Rear Turn Signals
Can be road registered - Number Plate Holder, VIN Number & Mirrors Included
Pre Orders - Deliveries for September 2023 - SOLD OUT & DELIVERING
Next Pre Orders - Deliveries Will Be 2023 October
Maximum Range, Limitless Possibilities
The E-Clipse is the ultimate electric bike for the adventurous and the practical alike. Its powerful 72v 45Ah battery provides a range of around 60-70 miles per charge, ensuring that you can go the distance on your journeys. And with a lightning-fast 10Amp charger, the battery can be fully charged in just 3-4 hours, giving you more time to explore and less time waiting around. With its electric motor, the E-Clipse offers a smooth and effortless ride that makes every trip an adventure. Whether you're commuting to work or exploring new trails, the E-Clipse is the perfect companion for the ride.
Smooth Ride - Efficient Motor
The powertrain system of the E-Clipse electric vehicle is highly advanced and efficient. The sinewave controller delivers smooth power delivery that has a peak output of 300A and a continuous output of 120A, enabling precise and efficient control of the 8000W peak output motor. The PMSM motor uses a rotating magnetic field to offer high power density, precise control, and increased efficiency in comparison to other motors. Moreover, it provides regenerative braking, operates quietly, and allows for precise speed and torque control, all while requiring low maintenance. Consequently, the powertrain system of the E-Clipse offers outstanding performance and energy-saving capabilities, making it a top choice for electric vehicle enthusiasts.
Intelligent LCD Display
The E-Clipse sets itself apart with its thoughtfully designed display, which provides riders with all the necessary information to operate the vehicle with ease and safety. Boasting a large and bright LCD screen, the display features a host of safety features, including turn signals, a light beam icon, horn, and a brake indicator, ensuring that riders can focus on the road while enjoying a secure ride.
In addition to these safety features, the display includes a power bar level that indicates the remaining battery percentage and volts being drawn. It also displays the RPM and temperature of the motor, enabling riders to monitor the E-Clipse's performance with precision.
With an automatic dimming sensor, the display adapts to the surrounding lighting conditions, providing optimal visibility and reducing eye strain. Riders can view their speed in either MPH or KMH, depending on their preference. Overall, the E-Clipse's display is a shining example of intelligent design, providing riders with all the necessary information and safety features for a seamless and enjoyable riding experience.
E-Clipse Safety
The E-Clipse comes equipped with safety features including front and rear turn signals that seamlessly blend into the bike's design. Its motorbike-grade hydraulic brakes deliver reliable stopping power, while a safety stand ensures the bike won't operate unless in the upright position. Additionally, the E-Clipse includes running and main beam lights required for road-legal bikes (set to be road legal by Summer 2023).
Solar E-Clipse Specs
Range:
50 -70 miles (72v 45Ah)
------
Top Speed:
Up to 60mph in sport mode*
------
Peak Power:
10000W -400A Controller
------
Acceleration:
3.6s 0-30mph
------
Weight:
60.8KG / 138lbs
------
Water Resistance:
IP67
What a fantastic bike and fantastic company.
The bike is over the moon amazing. Super light, crazy quick acceleration, yet somehow super stable at a cruising speed of around 50 mph. Regen breaking (through a dedicated right thumb press) lets me push solid one to two hours rides no problem in hilly sections of San Diego. Damned bike takes only 4 hours to charge from very low to full.
Build quality is insane. Everything about it seems premium to me. A bike this size (super light) with this much torque (beat my friends off the line) is something really special.
Customer service at Solar has been next level. I've been able to talk to the local contact with no problem, received prompt email and phone call updates whenever I had questions or issues with delivery... I wish other bike companies were on this train. It feels personalized and heartfelt dealing with that team.
Cannot recommend both the bike and the team at Solar more. Such a fantastic feeling and a wonderfully fun bike.
Missing off-road tires
I ordered a blue e-bike with an of road tires. I received an email that they ran out of blue bike. Because of my desire to receive a bike regardless of color, I change my order to white e-bike with offload tires. I received white bike with street tires. I emailed the office to send me an off-road tires because I only ride off-road. They replied that they will send me the tires when it becomes available. So far, I have not received the off-road tires.
Worth the wait
I'm amazed by how much the Solar E-Clipse is above all of my expectations the YouTube videos was the best selling point for me keep up the good work
Solar E-Clipse 72V Electric Motorcycle
Electric Motorcycle Received, assembled, and test drive accomplished on 8/22/23. Phone holder not received with package. Overall, 5-Star rating for performance, appearance, quality, and durability.
Great Bike But simple things like Service manual and App missing. Lack of communication from Seller
Bike is awesome but never came with a service manual. Even though the warranty page says to follow maintenance schedule in Manual to keep it running and in warranty. There is also supposed to be an app that i have not heard or seen anything about either. No communication or anything.