Get the Perfect Shot: Tips for Filming Yourself on an Escooter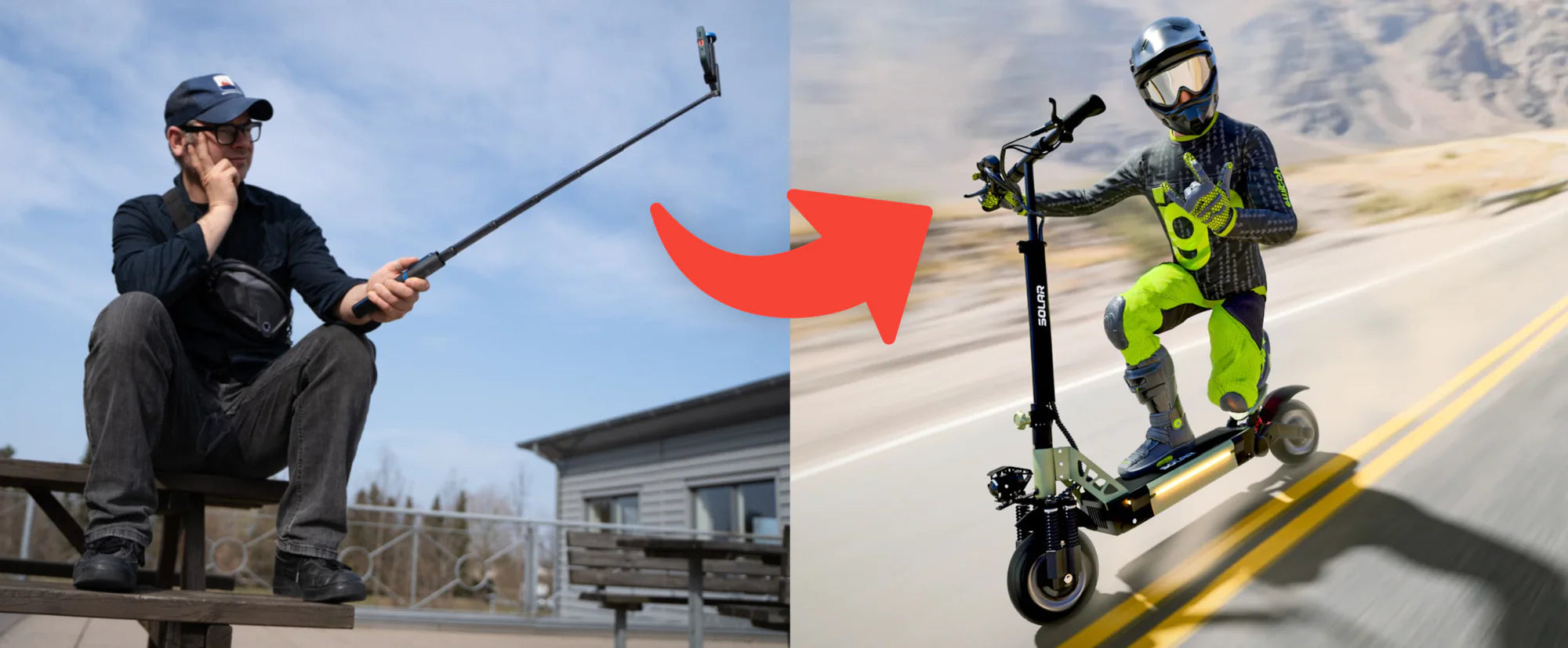 Hey there! Are you ready to take your escooter game to the next level? Whether you're an influencer looking to capture some cool content, a tourist exploring a new city, or just looking to document your escooter adventures, getting the perfect shot can be a challenge. But fear not! With a few tips and tricks, you can capture some amazing footage of yourself riding your escooter.
- Mount your camera properly The first step to getting a great shot is to make sure your camera is mounted correctly. You can use a variety of mounts, such as a helmet mount or a handlebar mount, depending on the type of camera you have. Make sure it's secure and stable, and test it out before you start filming to avoid any unexpected camera shake.
- Plan your route Before you start filming, plan out your route. Choose a scenic route or a spot with a great backdrop to add some visual interest to your footage. If you're riding in a city, be sure to watch out for traffic and pedestrians, and make sure it's safe to ride and film.

- Experiment with angles Don't just stick to one camera angle. Try different angles and shots, such as a bird's eye view, a close-up of your feet on the scooter, or a point-of-view shot from the handlebars. This will keep your footage interesting and dynamic, and will give you plenty of footage to choose from when editing.
- Use stabilization tools Escooters can be bumpy and uneven, so using a stabilization tool such as a gimbal can make a big difference in the quality of your footage. A gimbal will help to reduce camera shake and keep your footage smooth and steady.
- Be creative Don't be afraid to get creative with your shots. Try experimenting with different speeds, weaving through obstacles, and capturing the reactions of people around you. This will add personality to your footage and make it more engaging for viewers.
- Edit your footage After you've captured your footage, it's time to edit it. You can use a variety of software such as iMovie or Adobe Premiere to add music, transitions, and effects to your footage. Play around with different styles and techniques to find what works best for your video.
In conclusion, filming yourself on an escooter can be a lot of fun, and with these tips and tricks, you can take your footage to the next level. So grab your camera, hop on your escooter, and get ready to capture some amazing shots!
The camera gear we use!
Insta360 X3 Camera: https://www.insta360.com/
GoPro MAX: https://gopro.com/en/gb/shop/cameras/max/CHDHZ-202-master.html